We know that living and teaching in London has it's pros and cons. There's so much to do that it can be hard to stay-in and save your pounds to get over to tick everything off your 'Play In Europe' bucket list. Even if you're spending half your salary on super-cute craft resources and glitter pens, it doesn't mean you have to miss out on Europe's biggest Volkfest! Our friends at Stoke have sent us six tips for experiencing Oktoberfest on a teacher's budget.  Check them out so you too can join a party so great it makes last day of term look like a bad time!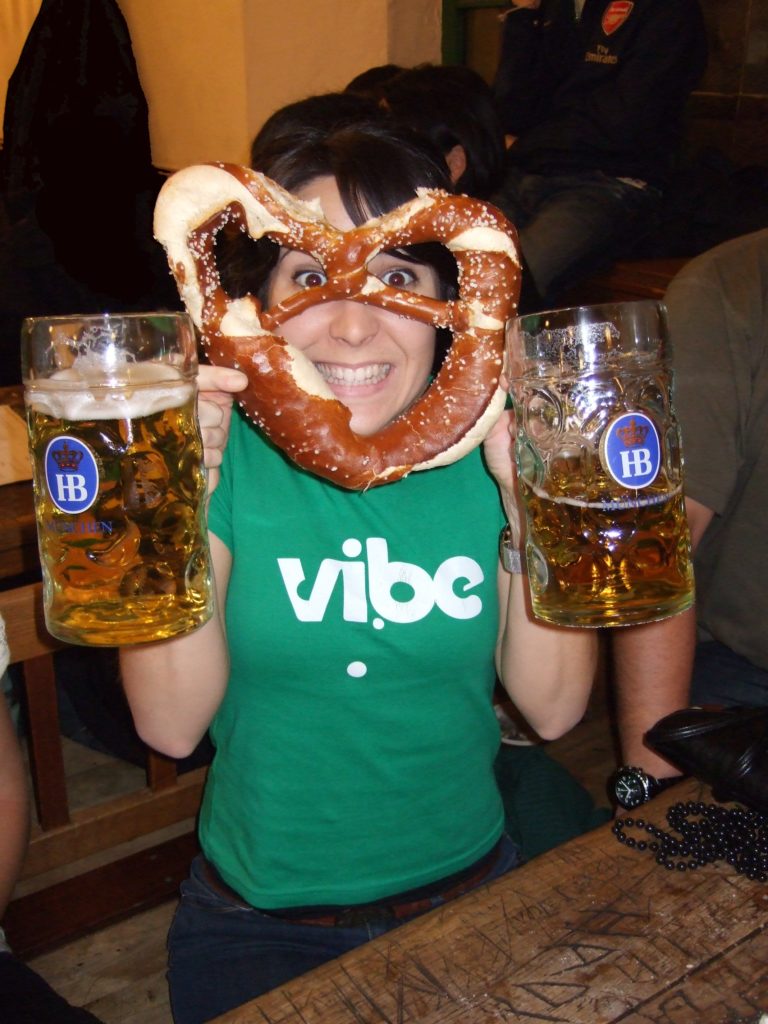 1. Don't spend €250 on your dirndl or lederhosen.
Sure, we know you're excited to splash some cash so you can look bangin' in your bier drinking kit, but why pay a premium price at the uniform shop when you can get the generic-but-equally-as-attractive-Tesco-equivalent at the Stoke campsite?
For the ladies, it's only €70 for a dirndl including;
– shirt
– dress
– apron
– hot style is included free!
For the gentlemen, €90 will get you a lederhosen including;
– shirt
– leather pants
– breeches
Don't forget the hat. No hat, no play.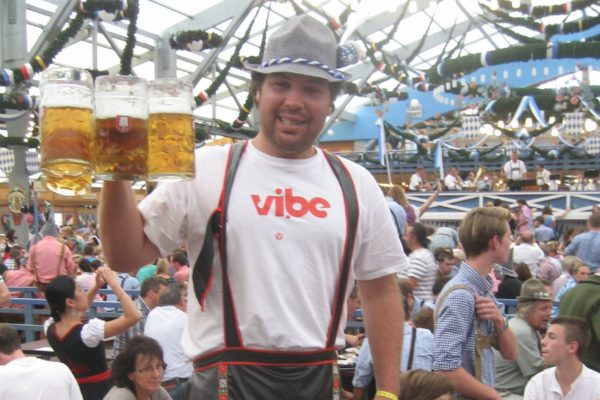 2. Don't steal the steins.
Can't afford any souvenirs? You've probably invested in 184 different colours and textures of matte and gloss craft paper so it's understandable!  However, please do not try to sneak a stein out of the beer halls. Those things are huge!  You'll struggle to hide it anywhere, and even if you do, you'll probably look more guilty than that kid who 'accidentally' forgets that he is chewing gum in class every day. You'll be caught red-handed and asked to pay a hefty fine.  You might be able to hide some of your less dignified moments by changing your last name to your middle name on Facebook, but let's not make this one of them.
3. Remember that the beer is strong!
We know that pints have been eating into your funds since you started playing school in London, but you'll be relieved to know that the Germans don't see Fosters as a viable choice of beer. The lightest bier at Oktoberfest is 5.8% and the strongest is 6.3%, so even if you only shell out for one stein, you're still guaranteed to be as buzzed as Tommy in Year 2 after he stole all of the jellybeans from the school office.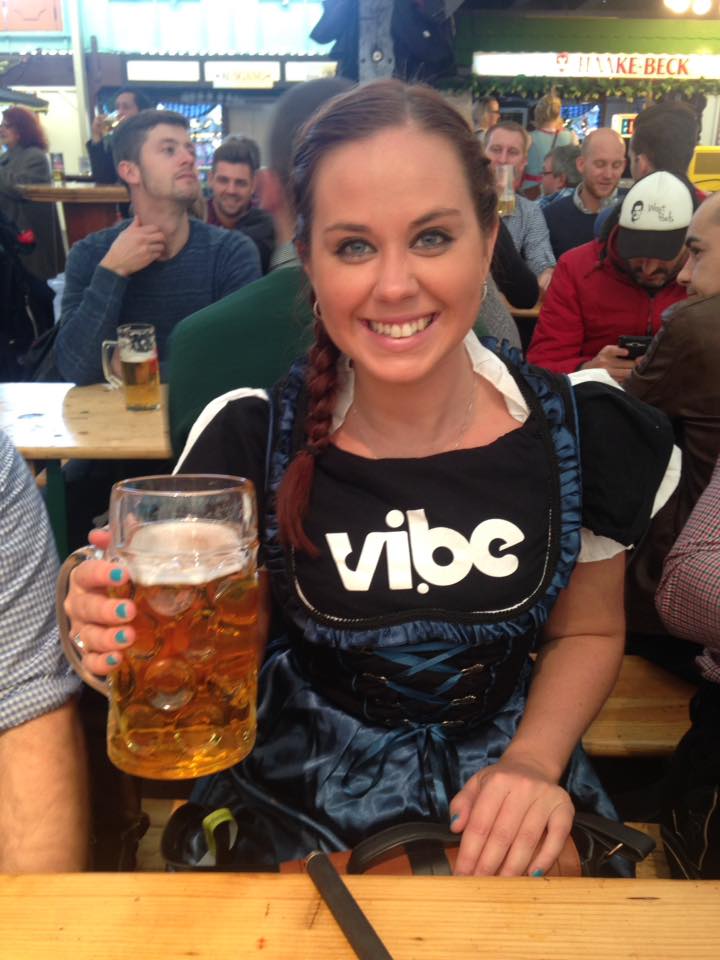 4. Play mine sweeper.
No, we're not talking about that early 2000's computer game that used to be sooo distracting right around essay-writing time.  If your increasing tolerance for the extra strong German bier is making your days at Oktoberfest more expensive than good quality whiteboard markers, the brave among you can try a second, albeit less desirable option.  You'll find more half-drunk, abandoned steins littering the halls than you find chewing gum under the desks. If you're game, they can serve as a cheap alternative to shelling out for a fresh one of your own.  No judgement here – you do you.
5. Find the change/tipping balance.
Serving at Oktoberfest is a birthright passed down by mothers and aunties, and it is a serious role to 'Ze Germans'. Once someone serves you, be careful not to cheat on her with someone else, and don't forget to tip. The better you tip, the more likely you'll be served more frequently and be looked after.  That said, beer wenches can be more stingy than Beverley in the cafeteria is with the mayonnaise – if you're due change, make sure you ask for it, or you won't get it.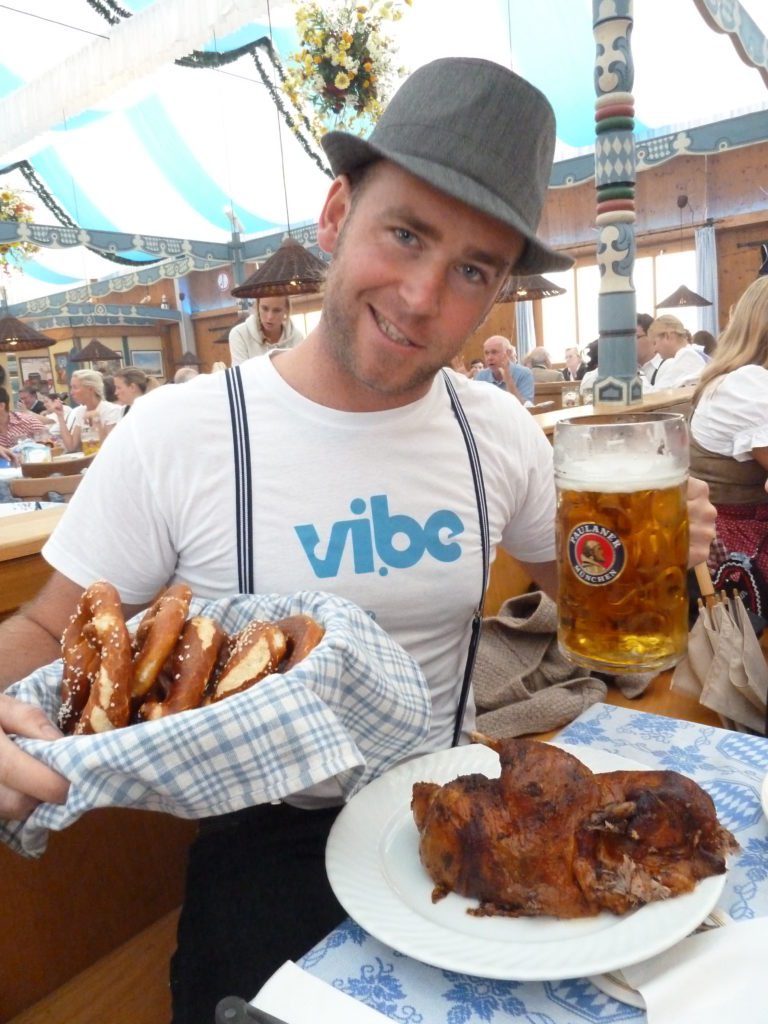 6. Camp with Stoke at Oktoberfest.
You probably haven't been that keen on camping ever since the gastro outbreak at the Year 7 end of year camp in 2014, but Stoke is here to change that. With pre-erected tents and mattresses provided, it's more like "glamping" anyway. Stoke pride themselves on offering hard-working educators like you an affordable way to let your hair down (the few strands that haven't fallen out due to stress). For just €60 a night, they provide everything you need to have a great and comfortable time. Some say that the Stoke campsite is so much fun you don't even need to enter the bier halls to drown your sorrows over that Ofsted rating. There's unlimited beer and sangria, DJs and live bands. Ein Prosit!
You can get to Oktoberfest with Stoke, and if you enter VIBE when booking, we've scored you 10% off!
Remember to pack your Vibe T and send us your pics and you could grab yourself a share of £1000!
Check out some more travel tips here.
Meet a Vibe and Oktoberfest legend, Cam here.